What is Master ASL!?
Master ASL! is an American Sign Language curriculum suitable for
high school and college courses. Grounded in contemporary second language theories that balance grammar instruction and conversational skills, with ample exercises to develop language proficiency, Master ASL! is the only ASL textbook series that meets state and national standards for foreign language learning.
Several features unique to
Master ASL!
include:
prosodic language development via expressive narratives
exercises designed to reach multiple learning styles
scope and sequence of topics mimic natural conversation
Master ASL! is designed with the hearing student in mind by focusing attention on traditional trouble areas, highlighting differences between ASL and English, andmaking the cultural and linguistic uniqueness of the Deaf World accessible.

Click here to order Master ASL! Level One from the Sign Media Online Store.

Follow us on Facebook
Keep up with Master ASL! on Facebook. www.facebook.com/LearnASL


Follow us on Twitter
Follow Master ASL! on Twitter. www.twitter.com/MasterASL.
Level Two of Master ASL! is now in development.
See the Level Two FAQ page for more information.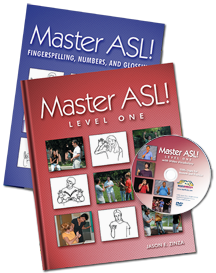 What teachers are saying:
"Master ASL! is a superb and stimulating educational tool"

"I can see a definite difference in students' signing skills both receptively and expressively after using the Level I text this year."

"...my only regret is that I didn't switch sooner."

"[Students'] understanding of Deaf culture is deeper, and their excitement to use ASL is wonderful!"